LANDSCAPING SERVICES IN Raleigh NC
Professional Landscaper In Raleigh NC
Are you looking to transform your outdoor space with professional landscaping services in Raleigh, NC? Look no further! Our expert team of landscapers is here to bring your vision to life. From stunning designs and hardscaping installations to lush softscaping and efficient irrigation systems, we've got you covered. Let us create an oasis right in your backyard!
Our affordable landscaping Services in raleigh nc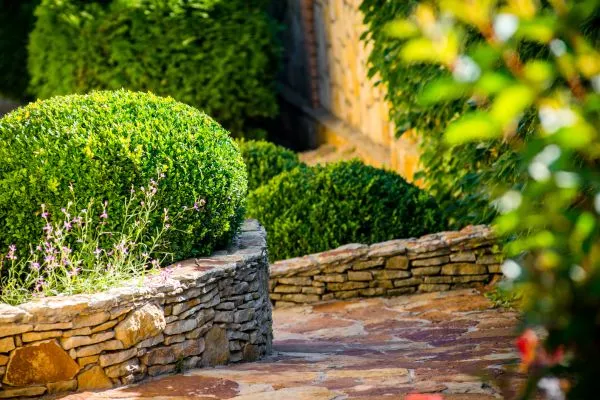 Create stunning and functional designs tailored to your preferences and property layout.
Our expert team of landscape designers in Raleigh, NC, is dedicated to turning your outdoor space into a captivating oasis. 
We understand that every client has unique tastes and requirements when it comes to landscaping. That's why we take the time to listen to your ideas and work closely with you to create a design that reflects your vision.
From conceptualization to implementation, our skilled designers will meticulously plan every detail of your landscape. 
Whether you prefer a modern aesthetic or something more traditional, we have the expertise and creativity needed to bring it all together seamlessly. 
With careful consideration of factors like space utilization, drainage solutions, and plant selection suited for North Carolina's climate, we ensure both beauty and functionality in our designs.
Install durable features like patios, walkways, retaining walls, and driveways for added functionality.
Our lawn mowing services in Raleigh NC are designed just for that! Our experienced team will install high-quality hardscape features such as patios, walkways, retaining walls, and driveways – all customized according to your needs.
Whether you want an inviting patio area for entertaining guests or a sturdy driveway built with top-grade materials that can withstand heavy use over time – we've got you covered.
With meticulous attention given to proper installation techniques and precise measurements ensuring structural integrity,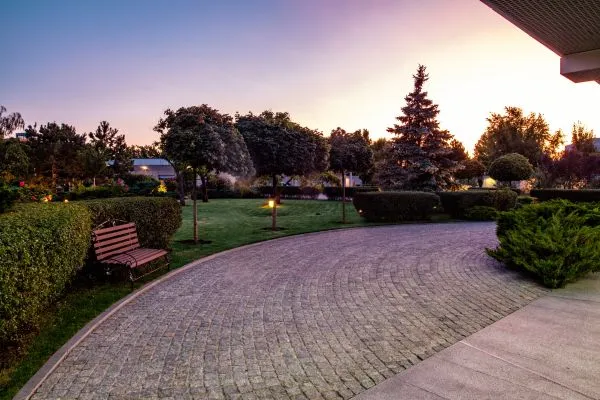 Add life and color with expertly selected plants, trees, shrubs, flowers, and turf installation.
Softscaping brings vibrancy and natural beauty into any landscape design. At Landscaping Raleigh NC,
We specialize in creating lush green spaces by selecting the right combination of plants, trees, shrubs, flowers, and installing premium quality turf where desired.
With an extensive knowledge of native flora suitable for Raleigh's climate conditions,
Our experts will carefully curate a softscape that not only enhances the aesthetics of your outdoor space but also keeps your property clean(property clean up in Raleigh NC).
From low-maintenance options to vibrant floral displays, we offer a wide range of plant selections to suit your preferences and level of involvement in maintenance.
Efficient irrigation solutions that conserve water while keeping your landscape lush and healthy.
Maintaining a beautiful landscape requires proper hydration, but wasting water is neither environmentally friendly nor cost-effective. 
That's where our efficient irrigation systems and pressure washing service in Raleigh NC come into play. Our team specializes in designing and installing irrigation systems tailored to the specific needs of your property.
By utilizing smart technologies like weather sensors and programmable timers,
we ensure that your plants receive the right amount of water at the optimal times without any unnecessary wastage.
Our expert technicians will assess factors such as soil type, right sod installation, sun exposure, and plant requirements to design an irrigation system that conserves water while promoting healthy growth throughout your landscape.
Enhance the ambiance and security by strategically placing lighting fixtures throughout your yard.
A well-designed outdoor lighting setup can transform an ordinary yard into a captivating nighttime oasis. At Landscaping Raleigh NC,
we understand how important it is to create the perfect ambiance for relaxation or entertainment after dark. That's why we specialize in strategically placing high-quality lighting fixtures throughout your yard.
Whether you desire subtle accent lights highlighting specific features or functional pathway lighting for increased safety.
At Landscaping Raleigh NC, we take pride in our commitment to delivering exceptional services that exceed your expectations. Here's why you should choose us for all your landscaping needs:
If you have any questions or need further details about our LANDSCAPING services, our friendly team is just a phone call away. You can reach us at [252-297-8555] during our business hours. We are more than happy to provide you with all the information you need to make an informed decision.
To get in touch with our friendly staff, simply give us a call at 252-297-8555 or send an email to admin@www.topdogslandscape.com