Pressure Washing Raleigh NC
Looking to revitalize your property's exterior in Winterville, NC? Our professional pressure washing service is here to help! 
With our expertise and top-notch equipment, we can enhance curb appeal, increase property value, and prevent damage. Say goodbye to dirt and grime as we bring back the shine to your home or business.
Pressure Washing Services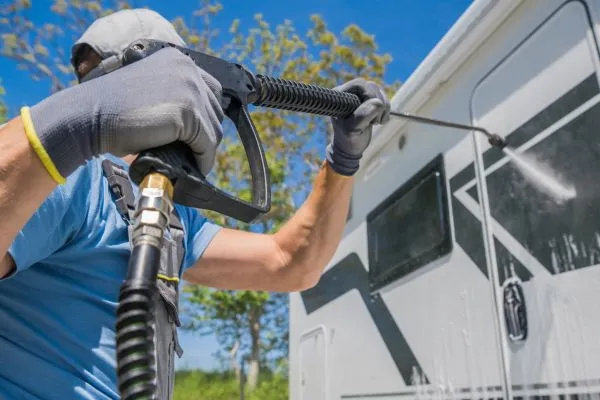 Tailored Solutions for All Commercial Spaces
From buildings and parking lots to sidewalks/entryways and signage exteriors, we offer comprehensive pressure-washing solutions that address every aspect of your commercial property. 
Our team understands the specific requirements of different surfaces and utilizes appropriate techniques and equipment for optimal results.
Improving Curb Appeal & Customer Perception
A clean exterior plays a crucial role in attracting customers and creating a positive perception of your business. 
With our professional pressure washing services, we ensure that dirt, grime, oil stains, graffiti, and other unsightly elements are effectively removed from your property's surfaces. 
This not only improves its overall appearance but also helps instill confidence in potential customers who will associate cleanliness(property clean up in Raleigh NC) with professionalism.
Preserving Property Value & Durability
Regular maintenance through pressure washing not only enhances aesthetics but also protects your investment by preventing long-term damage caused by mold growth or corrosive substances. 
By removing contaminants promptly, you can extend the lifespan of building materials while maintaining their structural integrity.
Don't let a dirty exterior hinder the success of your business! Trust Pressure Washing Raleigh NC for specialized commercial pressure washing services that will transform your property into an inviting space that leaves a lasting impression on clients and customers alike.
Why Choose Pressure Washing?
Cleaning your property's exterior can be a daunting task, especially when faced with tough stains, mold, mildew, and years of accumulated dirt. 
That's where pressure washing comes to the rescue! Let us explain why choosing pressure washing services over traditional cleaning methods is the smart choice.
Benefits of Choosing Our Service
When it comes to maintaining the cleanliness and integrity of your property in Raleigh NC, choosing our professional pressure washing service offers a multitude of benefits. Let's delve into the key advantages customers can expect when they entrust us with their pressure washing needs.
Enhanced Property Appearance & Value
Our expert pressure washing techniques can revitalize your property's exterior, instantly enhancing its curb appeal. 
By removing dirt, grime, stains, and other unsightly elements, we restore the beauty and vibrancy of surfaces such as siding, driveways, decks/patios, fences, and roofs. 
A well-maintained property not only impresses visitors but also increases its overall value.
Protection from Long-Term Damage
Dirt build-up or algae growth on surfaces can lead to long-term damage if left unattended. 
Our professional pressure washing services effectively eliminate these harmful contaminants that could cause deterioration or discoloration over time. 
By regularly cleaning your property's exterior with our specialized equipment and eco-friendly solutions, you ensure that it remains in optimal condition for years to come.
Improved Health & Allergen Removal
Mold spores and pollen are common allergens that can affect the health of individuals residing or working within a property. Our thorough pressure washing process eliminates these allergens from surfaces like siding or fences to create a healthier environment for everyone involved. Breathe easier knowing that our services contribute to reducing potential respiratory issues caused by mold or pollen exposure.
Choose Pressure Washing Raleigh NC for unmatched expertise in delivering exceptional results while providing enhanced aesthetics, long-lasting protection against damage, and improved health conditions through effective allergen removal.
The Power of Pressure Washing
Pressure washing utilizes high-pressure water streams to deep clean surfaces such as siding, driveways, decks/patios, fences, roofs, and more. 
This powerful cleaning method not only removes stubborn stains but also eliminates harmful contaminants that can cause long-term damage or health hazards.
When it comes to providing top-notch pressure washing services in Raleigh NC, our commitment to excellence is reflected in our meticulous process and state-of-the-art equipment. 
Let's take a closer look at how we ensure every nook is attended to carefully while maintaining efficient and hassle-free cleaning.
If you have any questions or need further details about our LANDSCAPING services, our friendly team is just a phone call away. You can reach us at [252-297-8555] during our business hours. We are more than happy to provide you with all the information you need to make an informed decision.
To get in touch with our friendly staff, simply give us a call at 252-297-8555 or send an email to admin@www.topdogslandscape.com